(Last Updated On: November 8, 2021)
Selection & Style Tips
How to look good in glasses was not part of my vocabulary when I started wearing them at the age of 6 in the 1st grade. I remember them still…black, cat-eye frames on my little girl face. It set me apart from the crowd, but not in a way that made me feel good. I don't know if the term had even been coined yet, but I felt like a nerd. That was in the early 1960s. Flash forward to today.
Fortunately, we live in a different world now, when it comes to wearing glasses, no matter our age. Glasses are cool. Glasses are trendy. Glasses are cute.
There are so many stylish glasses for women of all ages. For girls like me who are over 50 and over 60 (yes, we are still girls even if our age makes us sound old), we still have a lot of options when it comes to selecting a style of glasses that are fun and trendy.
If you click on a link and then make a purchase, I may earn a small commission at no additional cost to you. Thank you!
How to Pick the Right Glasses:
It really is a subjective decision. I've gone through many phases in my 60 years of wearing glasses. I wore contacts also for many years, but always had the glasses handy. I've worn glasses almost exclusively for the last 10 year sor so. And, I think I look good in glasses. 🙂
Looking good in glasses has a lot to do with making an intelligent selection of frames based on the shape of your face.
How do you know what size and shape of eyeglasses will look best on your lovely face?
There are some factors that will help pick the right glasses for you. Here are four helpful considerations from our friends at VSP:
Shape of Your Face
Round face: Eyeglass frames that are square or rectangular tend to be wider than a round face. This quality can enhance your face by making it appear slimmer and longer, adding balance to your round features.
Frames to Avoid: Rimless frames, round frames and small frames will accentuate the roundness, making your round face look even rounder.
Oval face: Frames that suit an oval face have a strong bridge, are wider than the broadest part of the face and are geometric in shape.
Frames to Avoid: Eyeglasses that are overlarge and cover up more than half of your face will throw off the natural balance and symmetry of the oval face.
Square Face: Eyeglasses that soften the angularity and sit high on the bridge of the nose look best on square faces. Oval or round eyeglasses will balance and add a thinner appearance to the angles of a square face.
Frames to Avoid: Angular and boxy eyeglass frames will sharpen and draw attention to your angular features, making a square face appear bulky.
Diamond shape face: Play up a narrow forehead and chin with eyeglass frames that sweep up or are wider than the cheekbones, such as cat eye glasses and oval frames. These frames will accentuate your cheekbones and delicate features.
Frames to Avoid: Boxy and narrow frames will accentuate the width of your cheeks, drawing attention to your narrow features rather than enhancing them.
Heart shaped face: Frames that balance the width of the forehead with the narrowness of the chin are ideal. Eyeglasses with low-set temples and bottom heavy frame lines will add width to that narrower part of your face. Round or square glasses with curved edges will help draw attention away from a broad, high forehead.
Frames to Avoid: Steer clear of any style or color of frames that draws attention to the forehead. This includes frames with decorative temples or embellished tops.
[bctt tweet="Looking good in glasses, because we're cute, not nerdy! Find out how to select the right frames for you!" username="inspiremystyle1″]
Skin Tone
Warm Skin Tone
If you have a yellow, bronze or golden cast to your skin, you have a warm complexion. Stay away from contrasting colors such as pastels. White and black frames are not flattering either. Instead, the best frame colors for you are light tortoise, browns shades, gold or honey, beige, and olive green.
Cool Skin Tone
If your skin has pink or blue undertones, you have a cool complexion. Avoid colors that wash you out and instead reach for frames that are silver, black, dark tortoise, pink, purple, blue, mauve and gray.
Lifestyle
Take into consideration how you live and the kinds of activities you enjoy. If you lead an active lifestyle and participate in sport, you might want to consider flex frames that will twist and bend without breaking.
Personality
Your glasses play a part in defining your look, so select them with care. Some people choose to have more than one pair of glasses…for work and for play, or for evening out on the town. I have several pairs of glasses that can work for me as long as I'm not sitting at the computer. But my current pair of glasses is my favorite by far, so I wear them almost exclusively.
I like frames that have an interesting look to the arm (the piece that fits over your ear), maybe a pattern or a different color.
How to Look Good in Glasses in Midlife
Midlife brings its own set of challenges, and looking our best as we age is a priority for many women. When it comes to our skin, our hair, our faces, and our glasses, we want to feel good, look classy, trendy, stylish and of course, cute.
Here are a few examples of glasses that help to create an overall look and style:
Image credits:
image 1, image 2, image 3, image 4
Where is the best place to buy glasses and sunglasses?
For years I felt that I had to buy my glasses in person in a retail setting. And it's not a bad way to go. You can try them on, stare at yourself in the mirror, become more and more confused as you continue to try on more styles, and generally have no clue which frames to select. It's great fun!
I have purchased glasses at discount outlets and also at higher end stores. And you know what? They're really all the same.
A couple of years ago I decided to try an online source to purchase my glasses. I had spent a LOT of money on a pair of glasses and a pair of sunglasses, and wasn't happy with either. I couldn't see clearly out of the glasses, and the sunglasses scratched so easily I couldn't see well out of them after awhile.
I did some online research and ultimately ordered a pair of glasses from Coastal.com. I used my current eye prescription, obtained from my eye doctor, to place my order.
Since that first order, I have ordered a second pair of glasses, the pair that I'm wearing in most of the photos on this blog, as well as sunglasses. And, I have been very satisfied with all of them. More than satisfied, actually. Looking good in glasses is important to me; it's part of my overall style. I love my glasses and adore my sunglasses. I wear sunglasses in every type of weather so it's important that they are comfortable and that I can see well for driving.
Want to try before you buy? Now you can try up to 5 frames, at home, for free, before you purchase your glasses online! WarbyParker.com
Coastal.com has been in existence since 2000, first offering contact lenses (and they still offer them today), then branching out into designer glasses and sunglasses a few years later. They offer a variety of exclusive designer brands in eye wear, so if you want a look that is truly unique, Coastal is the source for you!
You'll always find sales and discounts, as well as special offers (like the one at the bottom of this post) with Coastal.com. They are also passionate about customer service, and followed up with me several times to make sure I was satisfied with my purchase. I like that.
What about returns, you ask? Because they want you to absolutely love your eyewear, Coastal.com offers a free 14 day no-questions-asked return policy, and a 365 day warranty, on all orders starting from your delivery date. Very fair policy.
Coastal.com is also giving back in the form of their Buy One, Give One program. They have partnered with the Essilor Vision Foundation to provide vision services to the 2.5 billion people around the world who do not have access to them. For every pair of glasses bought, they will donate a pair of glasses to someone in need. I like that, too.
How to Order Prescription Glasses Online
First, let me say that I am not a professional so this section is just lil' ole' me talkin' about my experience ordering eyeglasses online. Enough said.
This is what I learned from ordering my glasses online:
You need your complete, current prescription. You'll input the readings to create your own personal profile on Coastal.com. You can even tailor the frames shown to your particular prescription – it's called My Fit and it is extremely helpful! I only look at eyeglass frames that will work for me, as I wear progressive lenses and have a strong prescription. The narrower frames are not large enough to give me the ability to see both near and far.
I used my existing glasses to help me determine what size frames to purchase. Every pair of eyeglass frames has 3 sets of numbers on one of the arms. I used those readings to compare them to the frames I was looking at online. Each reading represents a size…length of frame arm, width of nose bridge and lens width.
The website itself is very easy to navigate, and once you input your own prescription it will guide you to the best selections for you. If you want to chat with a representative that is almost always an option, too.
You need to take your time, consider all of the options and carefully make your decision. I saved about a dozen different frame styles, pondered them over a period of days, and when I finally made my decision it was not at all what I thought I would select!
I ultimately decided to purchase a frame that was larger than my last pair and more colorful, too. I felt that it would help to balance my hairstyle, hair color (auburn) and my oval shaped face.
When they first arrived I thought, "yep, these are definitely large frames!", but I quickly got used to them and now get compliments on them quite often.
If wanting to know how to look good in glasses, discounted pricing and superior customer service is what you're looking for, I would encourage you to consider  Coastal.com. Use the link below for even more savings. 🙂
$10 OFF CONTACT LENS ORDERS $99 OR MORE + FREE SHIPPING! Use code "FEB10"! Shop Now For A Limited Time Only At www.coastal.com !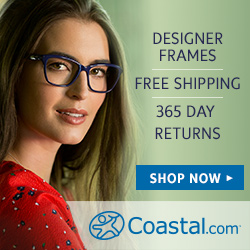 Like this post? Share it!